Where to go and What to do for 1 day in Hanoi
Hanoi is famous for temples, pagodas, sights, and historic sites. When visiting Hanoi, you may be confused what to eat, places to visit in vietnam Hanoi, things to do in Hanoi.
Must-see destination: A series of historic monuments like Van Mieu – Quoc Tu Giam (The Temple of Literature – Imperial Academy), One Pillar Pagoda, Tran Quoc Pagoda, the imperial citadel of Thang Long. Some other famous attractions such as Hoan Kiem Lake, Long Bien Bridge. Some museums like Vietnam Museum of Ethnology, Ho Chi Minh Museum, National Museum of Vietnamese History. Wandering around the Old Quarter to know more about Hanoian's life.
Time: Within a day or 2 – 3 days if you visit the suburb like Bat Trang village, Co Loa, Huong Pagoda, etc.
Means of transport: car, taxi, bus or motorbike
Schedule for one day tour in  vietnam hanoi
If you have only one day in Hanoi and it's the first time you visit Hanoi, you'd better pay a visit to some remarkable attractions. If you come here for the second time or you already visited famous places in Hanoi, you can choose some destination around Hanoi, which is also worth visiting.
Here is the popular schedule that you can follow or change to suit your taste.
8 AM: Visit Ho Chi Minh Mausoleum (it should be noted that Ho Chi Minh Mausoleum is closed on Monday and Friday). If you go there on Monday and Friday, you can wander around, take photos and visit the One pillar pagoda. Note: When visiting Ho Chi Minh Mausoleum, you have to register at the back gate in Ngoc Ha Street.
Opening hours:
In summer (from Apr 1st to Oct 2)
Weekdays: From 7:30 am to 10:30 am
Weekends and Holiday: 7:30 am to 11:00 am
In winter (From Nov 1st to Mar 31st the next year)
Weekdays: From 8:00am to 11:00am
Weekends and Holiday: 8:00 am to 11:30 am
10 AM: Continue visiting Tran Quoc pagoda (The oldest Buddhist temple in Hanoi that is located on a small island near the southeastern shore of Hanoi's West Lake. It's about 2,5km from the Mausoleum to Tran Quoc Pagoda. You can also visit Tran Quoc Pagoda before the Ho Chi Minh Mausoleum but remember the opening hours.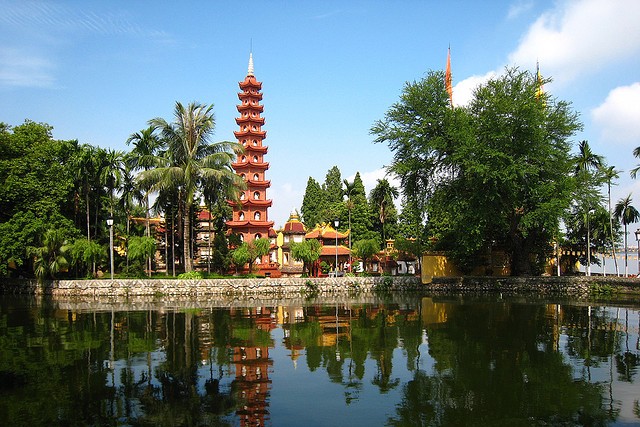 10:45am: Leave Tran Quoc Pagoda, you go straight to Van Mieu – Quoc Tu Giam (The Temple of Literature – Imperial Academy), then you can have lunch at Bun Cha Ca Sinh Tu restaurant (80 Nguyen Khuyen) or Pho 24 (61 Van Mieu Street) next to Van Mieu – Quoc Tu Giam. If you don't mind going far to eat, you can find your favorite restaurant.
1:30 pm: In the afternoon, you can go to Vietnam Museum of Ethnology which is about 8km from the city center. You can learn about the culture of 54 officially recognized ethnic groups in Vietnam. You can know how people in different regions in Vietnam live. It also ranks fourth in the list of Asia's top 25 attractive museums in Asia according to Tripadvisor. Opening hours is 8:30 am to 5:30 pm Tuesday to Sunday
3 PM: Back to the city center and move to Hoan Kiem Lake. After visit Ngoc Son Temple, you can go for a walk around the old quarter hanoi, enjoy the delicious food and fine souvenirs.
5:30 PM Come back to the hotel and have dinner.
8 PM: In the evening, you can go to Long Bien Bridge to take the air and contemplate Hanoi at night (you should return to the hotel soon for safety). You can also visit Nha Tho Street and enjoy lemon tea (opposite the St. Joseph's Cathedral – Nha Tho Lon) that is very funny with the young in Hanoi. If you like shopping, you can wander Hanoi Night Market (only open from Friday to Sunday) and buy some small handmade products with good price.
That's the end of one day tour in Hanoi. If you have more time, you can visit some other places in the suburb like the following recommendation.
One day tour to Bat Trang village
You can go to Bat Trang village by motorbike, taxi or bus. The bus is so cheap, if you want to save money, you can choose this.
You can see and buy a lot of nice pottery in Bat Trang
8 am: Start going to Bat Trang. If you go there by bus, you have to go on foot a little to the village center where ceramic market opens all day. Here you can go shopping, do sightseeing and finally visit one house to make a ceramic yourself. With the price of about 30.000 VND, you can make a handmade pottery yourself, paint or draw pictures on it and bring it home as the gift for friends and relatives. However, you have to wait about 30 mins for the products to be dry. So what to do next?
11:30 am: When finish shaping the pottery, you have lunch. I like Bun cha in the kiosk near the market (a little slanted toward the right). Right next to this kiosk is one shop that let you make handmade pottery.
12:30 pm: Continue painting and improving your products. Then you can go for a walk around the village, go to the Red River, visit village hall and pagoda in Bat Trang.
2 PM: Take taxi or bus or drive motorbike back to Hanoi.
That's some suggestions for you when visiting Hanoi. Hope that you have a good trip. If you have any question, please tell me know in the comment.