4 Must-try foods when visiting Ancient Capital of Hue
Hue is the capital of Vietnam in Nguyen Dynasty, located in the Central of Vietnam. This city still remains a lot of historical vestiges and cultural heritages of an Ancient Royal Capital. Hue is also well-known with royal cuisine (foods served for the King), which is the combination between taste and aesthetic, the combination among color of ingredients to create an art of work. However, there is another thing making "amazing cuisine" of Hue is traditional foods.
Hue's traditional cuisine is so distinctive from other regions in the country, which is considered as the best in Vietnam. And these are some special traditional dishes that you should not miss when visiting Hue.
1. Bún Thịt Nướng (grilled-meat vermicelli)
This food is totally different with "Bún Chả Nướng" from Hanoi. It is a mixture of rice vermicelli, grilled pork, fresh vegetables and other special ingredients. Bun thit nuong has no broth, but a sauce made by grinded peanut. The pork is mixed with some ingredients to be tastier and then be grilled on fire. A bowl of bun thit nuong includes rice vermicelli in the bottom, some pieces of grilled pork above, kinds of fresh vegetable around and the sauce on the top. When eating, you should add a little chili sauce and lemon squash then mix all of them together to enjoy the special flavor of the dish.
Bun thit nuong present every corner of Hue, becoming a popular street food here. Besides, in almost all "bun thit nuong" restaurants, there are also some of other dishes including bún mắm nêm ("mam nem" is a kind of traditional sauce made from fish), khoái pancake (also "xèo pancake" in Northern), nem lụi. You should try all of them because they are so specific and delicious.
2. Cơm Hến (Clam rice)
Clam rice probably is the most unique and symbolic food of Hue cuisine. The primary material of rice clam is cold rice and small clam. Clam is boiled and then their flesh is taken to stir-fried. Hue people said the best clam to make this food has to be caught from Tam Giang pond. Com hen contains rice, clam, Indian taro (Hue people called it "Bạc hà"), pepper, peanuts, fried pork grease (Tóp mỡ), some of herbs and fish sauce sprinkled above. Because people here considered clam as a "cold food", they add pretty much chili sauce or red pepper into the bowl of com hen. So, it can be very spicy. Therefore, you should prepare yourself before enjoy it.
In addition, beside the bowl of com hen, they will add a special bowl of soup made from boiled clam broth for you to sprinkle into com hen if you like. However, for people who try it at the first time, it may be really hard to eat, so remember, you should smell the soup before you try.
Now, except for Com Hen, Hue also has Bun Hen (Clam vermicelli), My Hen (Clam noodle). They are as similar as Com Hen, but they use vermicelli and noodle instead of rice to make the food more diverse.
3. Bún Huế
Bún Huế is general name of many variation of rice vermicelli soup having a same major ingredient called "mọc". Mọc is small balls made from grinded meats. The meats to make Mọccan be pork or crab or shrimp. Moc is the most important thing that decides the distinctive taste of Bun Hue. Besides, it also contains cubes of brown congealed pig blood, which are very good for anyone suffer from high blood pressure. Another special thing in Bun Hue is the broth, prepared by simmering pork bone for a long period of time and after that adding other elements to create mixed taste.
Depending on the kind of meat making Moc or the additional ingredients, there are many variations of Bun Hue, including Bún bò giò heo (pig's trotters), Bún mọc Cua ( Moc made from crab), bún mọc (Moc made from pork),…
4. Bánh canh cá lóc ( snake-head tapioca noodle soup)
Bánh canh (tapioca/rice noodle soup) is the specialty of Central Vietnam. There are many kinds of banh canh representing each place, for example, Trang Bang rice noodle soup (Tay Ninh province), fish roll tapioca noodle soup (Binh Dinh province), etc. AndSnaked-head tapioca noodle soup is the representative of Hue.
Tapioca is kneaded with water, then be cut into long thin slides and be hard-boiled. Sneak-head fish is a kind of fish living in freshwater. The meat of fish is cut into small slides and then be stir-fried. The bone of fish is used to boil the broth. A bowl of banh canh ca loc is pretty simple: tapioca noodle, some slides of fish, green onions, eryngium leaves, and the broth. But it is a combination of a lot of flavor, including the sweetness of broth, the greasiness of snake-head fish and the toughness of tapioca noodle. And to avoid the smell of fish, the food is added pretty much chili sauce, so it is extremely spicy. It is highly recommended that you should find something cool to drink with.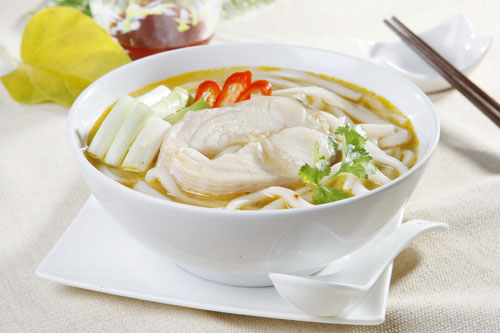 Hue is the central of Vietnamese cuisine, so there are various foods waiting for you, includingBanh beo, Banh nam, Banh loc, Banh uot, Che (sweet soup), Tom chua (sour shrimp sauce), vegetarian foods and other royal dishes. If you are an astronomer, you have to visit Hue and enjoy yourself.